The times when going out for dinner was all about eating the best food ever are long gone. Nowadays we love to show off what's dished up in front of us and share it on social media for generations to see.
To get the maximum results in this game of pics we created a guide on how to take the best #foodporn photos for social media with your smartphone.
Do your research/ Stalk like you have never stalked before
Before you set out to take the sexiest photos of the world's fanciest food, do your research. Open instagram and start stalking restaurants, and friends, and friends of friends to find your city's most photogenic food. Saucy Pizza, Big Burgers, pretty cakes and colorful ice cream are always a winner. And Avocado on and with everything. You get extra points for crazy novelties, so dig deep into the food trends of this year.
A successful foodporn image is defined 90% by the food you shoot, so this is the most crucial moment in the process.
Book a table by the window
Food looks best in just the right amount of daylight so make sure you catch some by calling a window seat your own. Also, make sure the sun is still / already shining. Direct sunlight will give you harsh contrast, overcast a smooth and even light. Both can work, depending on the mood you go for.
Scandinavian simplicity: Overcast
Mediterranean summer: Direct light
Invite a friend with gorgeous hands
For some shoots you might need an excellent hand model (shooting ice cream) so take a friend along that loves manicures as much as yummy food creations and has the patience of buddah.
Sometimes your friend comes in handy when they have to assist you but we get back to this later.
Pack a bag full of props
Now we start to get geeky. To get the best lighting situation depending on your dish you can use a small mirror or a sheet of aluminum foil, a white or even a black sheet of paper. Your friend aka. assistant can bounce of the daylight (Link to NYT video) with one of these to brighten the shadows (mirror, reflective surface or white paper) or darken them for a higher contrast (black paper).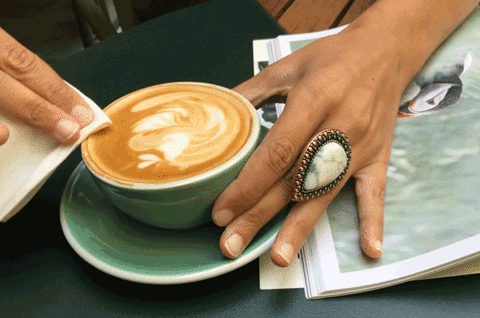 Boomerang vs Photo
Some scenes just beg for a moving image instead of a still.  Pouring Syrup over your pancakes? Sprinkling Parmesan on your Pasta? Use the Boomerang tool from instagram to make it move.
Styling
Keep it simple, add a fork or a spoon and if the flowers on the table look amazing, make sure to let them peek into the picture. If you show an amazing baked goods that don't have a lot going on on the outside, like bread, you can cut into it to show some of the texture inside.
Filters
If you need them you are eating at the wrong place.

Captions
Two basic rules here: What are you eating and where can we get it! Tone of voice should be authentically you. Hard time getting it right? Imagine sending this pic to your best friend.
Try these tips with a delicious plate of superfood
---
You may also like