As we celebrate all the mums in our lives this Mother's Day, we're also giving a shout out to the onscreen mums whose tables we wish we could dine at – for the food AND company! Join us in our daydream about the following famous fictional mothers and their culinary skills.
1. Vianne Rocher –
Chocolat
Some days all you want is a sweet fix, and we imagine the delights of Vianne's chocolaterie would be the perfect place to get it. She could even serve us a three-course dinner consisting of just chocolate and we'd be satisfied.
2
. Marie Barone –
Everybody Loves Raymond
As the matriarch as the Barone family, Marie is definitely the boss. But she knows how to take care of everyone and we're confident she'd give us a meal to remember, even if it comes with a side helping of straight-talking advice.
3. Marge Simpson –
The Simpsons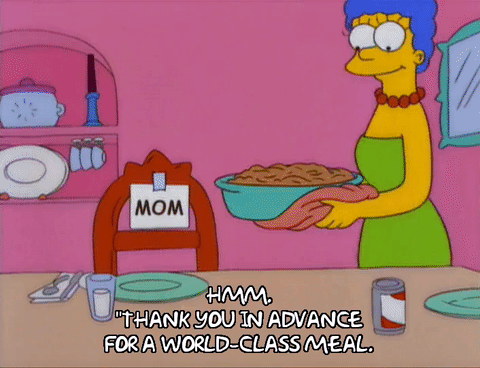 Marge sure knows how to cook up a feast and she makes cartoon food look delicious! With Homer opening the Duffs, Lisa providing sophisticated conversation and Bart cracking jokes, it would be one fun evening at the Simpsons household.
4. Jane Adler –
It's Complicated
Meryl Streep can do no wrong on the silver screen, especially when she's playing a busy single mother who runs her own bakery. You wouldn't have to ask us twice if we wanted to have dinner at her house – we'd raise both hands to be guinea pigs for her new recipes!
5. Bree Van de Kamp –
Desperate Housewives
We're desperate to attend one of Bree's infamous dinner parties, even if it does end up being a dramatic affair! Throw in a copy of her cookbook and we'd go home very happy bunnies with lots of gossip to share.
6. Monica Geller –
Friends
She only became a mum in the penultimate episode of Friends, but we can't not mention Monica on this list! We'd love to have attended the Thanksgiving where she made three types of potatoes. Come to think of it, we'd loved to have visited her apartment any time…
Get food just as good as these mums' on foodora.
---
You may also like