If you believe the odds, Federer and Serena Williams are likely to be crowned the winners at Wimbledon this year. Despite being the favourites, they can be dethroned if other players rise up to the challenge. But off the court? Strawberries and cream's dominance as the most-loved food at SW19 is indisputable (so no, English people are not always about just tea).
Who introduced the dish?
Like the tradition that players must dress in white, the dish is also what people always remember about the tournament. It is widely believed that King George V introduced the irresistible combo at Wimbledon in the early 1900's, while Cardinal Thomas Wolsey, a high ranking-official in the court of Henry VIII, was credited with the first one to pair the two ingredients together. There are many reasons about why it was began being served, mainly it is because of the fruit's availability – and it was a very fashionable fruit.
Why are they so popular?
Over 2,000,000 strawberries are consumed on average and 7,000-litre of cream is used to drench the fruit throughout the two-week tournament every year. There is hardly a secret why they are so popular: the strawberries are picked on the day they are served. They are harvested at around 4am and arrive at the site at about 11am to be hulled and inspected. Freshness and sweetness mean anyone will have a hard time saying no to the dish, and who doesn't like fresh strawberries with a dollop of cream?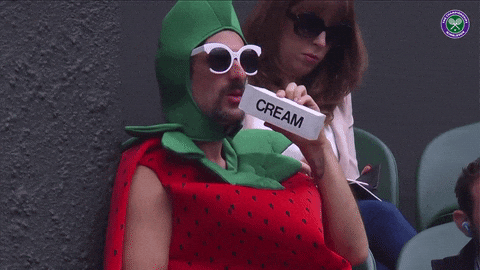 Players love them too
8-time (as of this blog) champion and this year's favourite Roger Federer, and other former champions such as Djokovic and Sharapova are among the celebrities who cannot resist the charm of the combo. Can we call the dish the recipe for their success?
Strawberries and cream are so significant to and tied to the event that the official website sells a number of memorabilia related to the fruit. From mugs to charms to keyrings, an array of product on their online shop showcase one of Wimbledon's oldest traditions in a beautiful all-over strawberry design.
We are not sure if strawberries can help improve your tennis game, but it's good for your soul, which is why we are telling you how you can ace it:
15-0
Obviously you need to have strawberries and cream. Don't fret if you can't get the British ones, just pick the ones you like the most. One bowl contains 10 strawberries, so if you really want to stick with the tradition, have 10 pieces per one serving.
30-0
Wash and de-stem the fruit.
40-0
Easy game so far, right? Now put the strawberries in a bowl, and pour however much cream to your heart's content.
Game, set, match.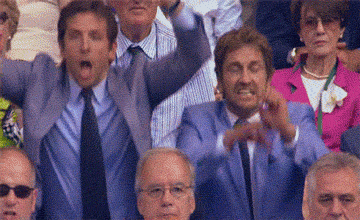 Great match. You did everything so well, now enjoy the reward – a bowl of strawberries and cream.
Head over to foodora if you're keen for more desserts!
---
You may also like